Current weather conditions in South Tyrol
Today: Sunny and hot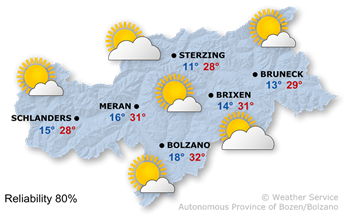 Sunshine will prevail on Sunday. Some cumulus clouds will form in the second part of the day, but the probability of thunderstorms will remain low. Summer temperatures with highs between 28° in Sterzing and 32° in Bozen.
---
Tomorrow: Summer weather
Tempo molto soleggiato con qualche nube innocua. Temperatures will rise slightly, reaching highs between 30° in the Upper Eisack Valley and 35° in the Bolzano basin.
---
Next days Weather forecasts: Thunderstorms on Tuesday
Webcams
View on Castle Schenna
and the Church Square in Schenna

Hirzer cable car