Current weather conditions in South Tyrol
Today: Cloudy and rainy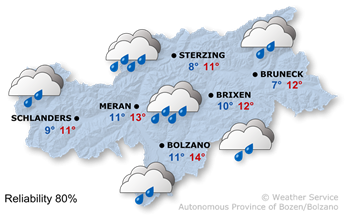 Overcast and during the day rainy all over the region. In the evening and during the first half of the night also heavy rain. Snow limit during the day over 2000 m, sinking during the night to 1400-1100 m. Strong winds with the crossing of the front. Maximum temperatures between 8° and 14°.
---
Tomorrow: Weather improvement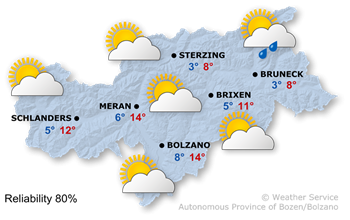 In the morning residual precipitation, especially in the east. Snow level around 1100/1400 m. In the morning first sunny spells, more sun in the afternoon. High temperatures between 6° and 14°.
---
Next days Weather forecasts: Friendly weather
Webcams
View on Castle Schenna
and the Church Square in Schenna

View over
S. Martino / St. Martino