The Alpenhof Lodge Philosophy
Your hotel with ♥
in Saltaus near Meran
The people of the Passeiertal Valley (Val Passiria in Italian) are somewhat special, and their reputation as "down-to-earth" and "warm-hearted", translates as "hospitable". Around here, guests aren't just transient visitors. We treat you as a friend; someone who takes the time to come here and appreciate our part of the world. In the local pubs, we enjoy our typically convivial get-togethers (we call them "Zommhucken"), and heart-to-heart conversations ("Ratschers") in the garden. At breakfast time, we like to share tips about the best hikes ... because for us, it's a personal matter. Whether it's on one of our organised hikes, or at one of our themed culinary events, and even at our weekly pizza evenings, that's how we prefer it. In the past 50 or so years since we first started, we've welcomed back numerous returning guests, who've visited us year after year. The fact that so many people have enjoyed their stay at our hotel and chose to come back to us – that's our greatest reward!
At our lodge, the atmosphere is typically relaxed and informal. If you're up for a day-long hike in the mountain, your day can begin as early as at 6 am. But if you prefer, just take it easy and enjoy your leisure time in step with the rhythm of Mother Nature. Whichever way you wish to spend your holidays, the main thing is that you make the most of your time with us. We'll see to it that your time at the Alpenhof Lodge in Saltaus will be a truly memorable experience.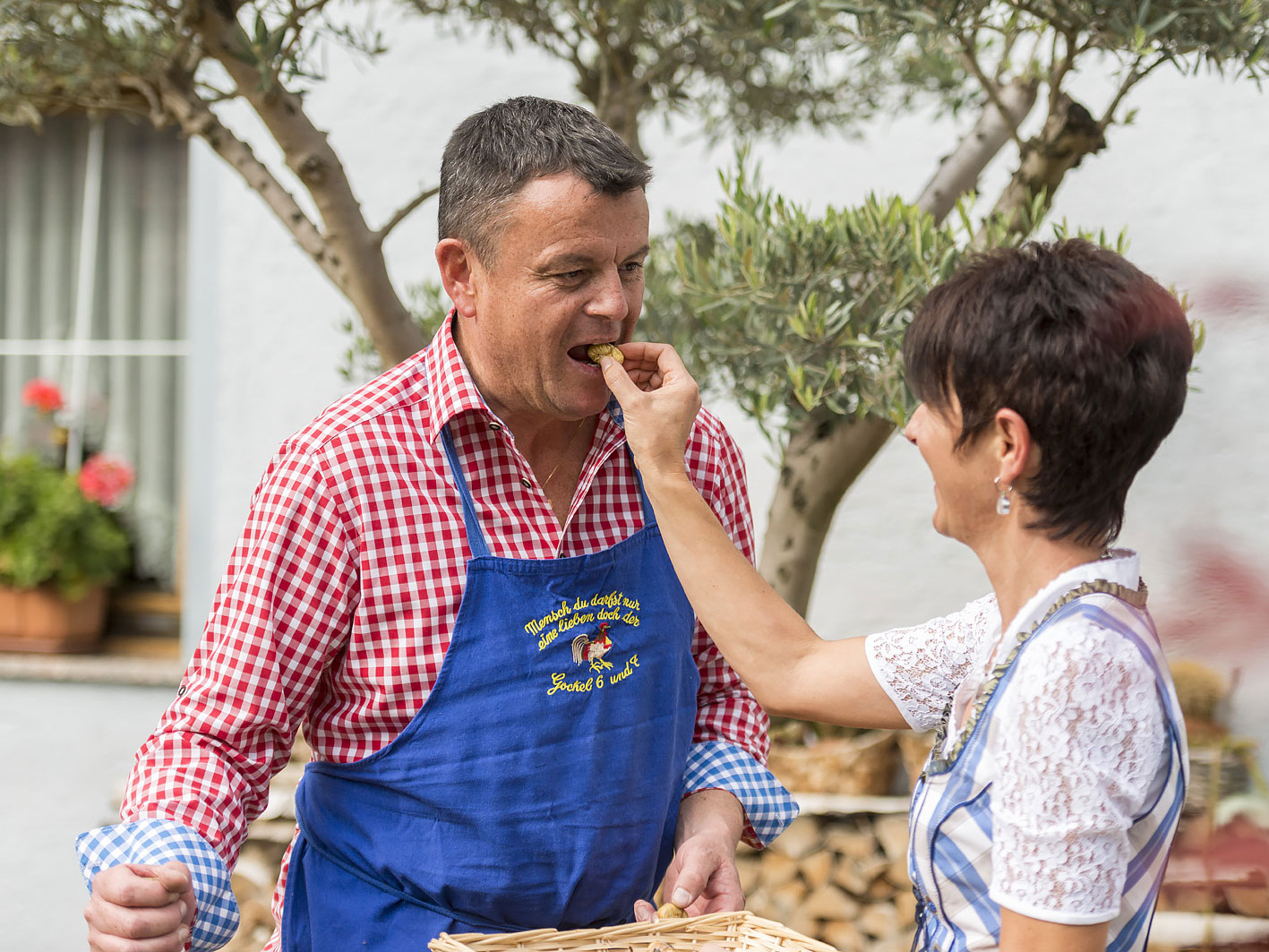 Ready to take on the summit?
Spend the night at our Alpine refuge!
You can experience the authentic mountain lifestyle at first hand, with spectacular sunsets, looking out at the starry skies and across breath-taking Alpine panoramas. If you like, you can also spend a night or two at our very own Hirzerhütte mountain refuge at an elevation of 2,000 m. Leave your car and most of your luggage behind at our Alpenhof hotel in Saltaus, because a few necessities are all you need. After a 15 min ride on the cable car to the summit followed by a short hike, you'll have arrived at the hut. That's all it takes!
Alpine pastures or palm trees?
Rustic Passeiertal Valley, mediterranean Meran
Do you feel like hiking up to the mountain pastures in the Passeiertal Valley, or would you prefer a stroll in Mediterranean Meran? It's a choice between an outdoor adventure in the mountain pastures, or relaxing downtown with an Aperol Spritz under the palm trees.
Here, at the Alpenhof Lodge in Saltaus, both are equally within easy reach. You can reach the summits at 2,000 m in just a quarter of an hour, and it takes the same amount of time to get to Meran. The choice is yours!
This is what we offer our VIP Junior Guests ♥
Weekly organised family hikes
Tour of the town with "uncle" Walter, on his 500cc motorbike
Pizza-making classes for kids
Family sauna
Playground, table soccer & table tennis
No time for boredom!
Tips for family excursions in Val Passiria
Cycling through Val Passiria
All children love riding bikes! The Val Passiria cycle path is 20km long and is only a small climb. It leads through orchards and along the Passirio river from Merano to San Leonardo.
The 'Passerschluchtenweg'
The power of water plays a huge role in Val Passieria. This is particularly evident between Moso and San Leonardo. The altitude difference to the destination is 340m, and you're completely surrounded by the forces of nature, impressive waterfalls, comfortable paths, elaborately constructed metal bridges and the roar of the Passirio river. Old and young never cease to be amazed!
Children's days in Val Passiria
In the warmer months, Val Passiria has something very special for our younger guests… an activity summer. A broad action-packed programme of sporting, creative, cultural and educational activities are on offer.
A day full of fun and games, led by experienced youth leaders, await guests to Val Passiria aged between 5 and 14.
You can find the programme here: erlebnissommer.info
Visit the Stone Age with Ötzi
A visit to the Archeopark in the Senales Valley, with archery, baking, painting and drawing, pottery and arts and crafts.
A visit to the Archaeology Museum in Bolzano with special exhibition for children - What did Ötzi eat? How did he live? Why did he need all these things?
Earth Pyramids on the Renon Mountain
Day trip to Soprabolzano, beginning with a journey from Bolzano to Collablo using the overhead railway.  Then, we continue with the old cogwheel railway to Maria Assunta. The Earth Pyramids, rock formations shaped by years of rain, wind and melting snow, some of which are 20m high, suddenly come into view.
Beekeeping Museum on the Renon Mountain
The thatched Plattnerhof on Renon Mountain houses a beekeeping museum, featuring books about bees, an exciting quiz, bee-related crosswords and games and much, much more!
Trauttmansdorff Castle and Botanical Gardens in Merano
The Gardens of Trauttmansdorff Castle – with the water lily pond, the maze, the aviaries and the spectacular viewing platform, your kids will be in their element! Sissi, former Empress of Austria, bids you all welcome.
Rope Garden near Merano
Swing from tree to tree on the 'Taser Family Pasture'
High above the trees, hanging bridges that swing and sway await you, as do ladders leaning against the tree trunks and ropes hanging from the branches. You truly do need to have a head for heights to master this obstacle course! Your little adventurers won't get enough. Double swivels and cables ensure your kids are kept safe – a hair-raising experience is guaranteed!
Tirolo Falconry Park
Off to visit the bird doctor in Tirolo. The bird sanctuary, where sick and injured wild birds receive expert help to heal, is below Tirolo Castle. As soon as they are well enough, they are released back into the wild.
Falconry displays featuring birds of prey such as eagles, buzzards and owls take place twice a day.
A true spectacle!
Train Journey to Bolzano or into Val Venosta
All aboard!
Lots of children are enthralled by the atmosphere of a train station. Loud rumbling and the screeching of brakes announce the arrival of the incoming train - then climb aboard and find yourself a carriage as, with a jolt, the train departs again.
Soon, beautiful landscapes will begin whizzing past your window. Into the tunnel… blackness… then sudden light. Some stretches of the journey are slow, some are fast, but we always reach our destination.
What's more... you can hire bicycles from any station along the Venosta railway and return them at another station of your choice.  The cycling trail is beautiful and great to ride.
Rope Garden near Terlano
Endless fun of climbing and balancing as you move through a world of ropes, beams and hanging bridges. Experience the countryside from a completely new perspective. Professional instructors are always on hand to offer help and advice.
Hochseilgarten bei Terlan
Hauptstr. 4
I-39018 Terlan
Italy
To the family hikes: Hiking with children >>